How do I measure my wrist circumference?
Place the tape measure around your wrist so that it fits relatively snugly. (Photo) Based on your wrist circumference you can then determine your bracelet size (XS, S, M, L,…) in our
size chart
(below).
The correct size results solely from the (tightly measured) wrist circumference! We will then add the necessary additional centimeters for your bracelet!
Example: If the measurement shows a wrist circumference of approx. 16.4/16.5 cm, choose size M(photo).
For children and adolescents, please always communicate the wrist circumference. (Under "Shipping Details").
If your wrist circumference is between 2 sizes (e.g. 15.9; 16.0 or 16.1 cm) you can also let us know during the order process under "shipping details".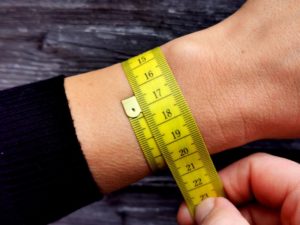 You want to give the bracelet as a gift and therefore can not measure?
If there is another bracelet you can measure the total length and then find the right size in our size chart under the heading "bracelet total length".
If there is no other bracelet, here are some general sizing instructions:
Very slim men: size M
Sporty slim men: size L
Somewhat more powerfully built men fit size XL.
Very petite women: Size XS
Very slim women: Size S
Most other women fit size M,
Somewhat stronger women fit size L.